Investors opt for defensive sectors like logistics and resi
In the current climate investors are more selective and drawn to strong sectors, delegates heard at Real Asset Media's European Real Estate: Outlook & Opportunities briefing, which was held recently at Nuveen's offices in London and online.
"Investors are still looking for opportunities and some asset classes like logistics and residential are seen as defensive," said Audrey Klein, non-executive board member, chair of ESG committee, SFO Capital Partners. "The disruption to supply chains has led companies to stockpile, so they need more storage capacity. Logistics still has a long way to go. I am cautiously optimistic on the outlook for the market."
The expectation is that logistics rents will keep going up in all markets, but at a slower pace than in the last two frantic years. Rental growth will slow down but it will continue.
"The tailwinds for logistics and residential are still there because they are structural trends, while the negative impacts are cyclical, so we are not shifting our allocation across sectors" said David Inskip, head of UK strategy and research, CBRE Investment Management. "In the logistics sector yields are very sharp by historic standards, especially in the UK," he said, adding that on the other hand it is an asset class that is much more institutional and professionally run than in the past.
Both logistics and residential benefit from structural tailwinds. But of the two, residential is best placed. The three big risks for real estate are inflation, recession and rising interest rates, according to Nuveen's European risk matrix, and residential is the only asset class that performs better in all three cases.
"The living sector has many tailwinds, from demand to demographics, and megatrends are not affected by cycles," said Stefan Wundrak, head of European research real estate, Nuveen. "It also benefits from being such a broad sector."
Residential is seen as attractive because it has so many sub-sectors, from multifamily to build to rent and from senior living to student housing.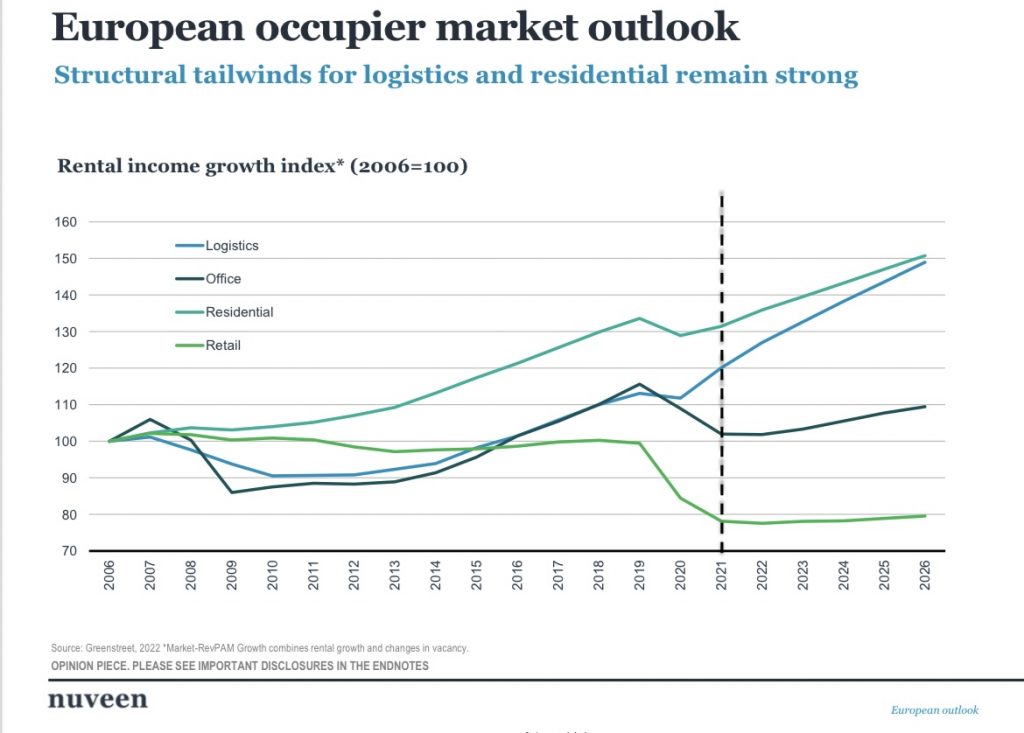 Current economic conditions favour the build to rent sector, for example. "Higher interest rates mean more renters, because mortgages become more expensive," said Wundrak. "More people will be pushed back into the rental market, so demand will go up."
Affordable housing is another sector that can deliver for investors in difficult economic times.
"In the UK affordable housing is a strong story, with a regulated structure, countercyclical and with inflation linkage which is very appealing now," said Inskip.
Investors also believe in the prospects of the student housing sector, judging by the significant number of transactions that have taken place this year.
"Student housing has been counter-cyclical, so current economic conditions could make it an interesting play," said Inskip. "It looks like a resilient space with high investor demand."
Across all segments, residential is seen as attractive because of the persistent imbalance between supply and demand.
"Not enough houses are being built anywhere," said Klein. "Building didn't catch up with demand after the GFC, so young people cannot afford to buy or even rent. The positive aspect is that there's a real repurposing culture springing up, a lot of applications for change of use and interesting projects being developed."
Re-purposing seems to be more popular than new developments for environmental and other reasons, from availability of land, to cost of materials.