Logistics' fundamentals remain strong amid global uncertainty
The low-hanging fruit has gone, but opportunities are still there. Nicol Dynes reports
Geopolitical and economic issues are causing uncertainty in the market, but also creating an environment in which the logistics sector can thrive.
"For investors and developers in the logistics sector the best time is now," says Michael Hughes, chief executive of Verdion Group. "It's an exciting time. The low-hanging fruit is gone but there are great opportunities to find value."
The fundamentals are there: occupier demand remains strong, vacancy rates are extremely low, there's double-digit rental growth and a lot of capital chasing logistics assets.
"The last 12 months have been extraordinary and we've seen huge changes," adds Hughes. "In times of disruption, specialists have a chance to shine. You have to invest well, make the right choices and use your brain the old-fashioned way, instead of relying on the magic market to do the work for you."
It is a time of natural selection in the logistics market. There will be a differentiation between the real experts with a deep knowledge and people who have jumped on the bandwagon because the sector has been successful.
"The winners will be people who know what they're doing," suggests Marcus de Minckwitz, head of EMEA industrial & logistics at Savills. "The current environment has opened the door to a more sophisticated and more selective sector, which favours the big established operators".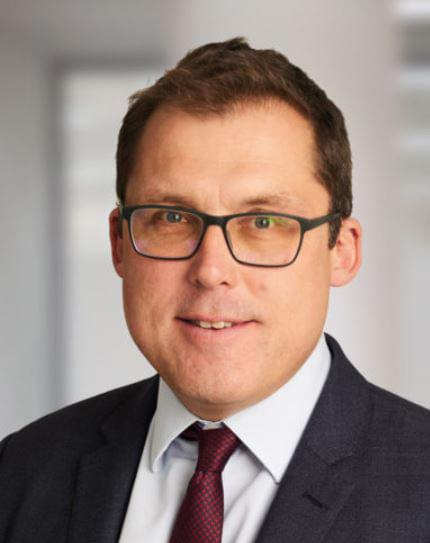 'Growth will continue despite the uncertain macro environment, and that's why we are focusing on our day job, managing our assets well.'
Nick Preston, Tritax EuroBox
The specialists are the ones who will be able to spot the opportunities in the market while others sit on their hands and wait for the uncertainty to pass.
"There's more advantage in investing well in a market with proper challenges," explains Hughes. "It's a fantastic opportunity to create value. We're focused on best-in-class edge-of-town logistics, dynamic investments that generate income and rental growth."
Adjusting to the new normal
After years of favourable market conditions, rising prices and low interest rates, the adjustment to the new normal has not been easy for many. "We got used to good news on everything from rental growth to vacancy rates, so the first bit of bad news has been a shock," says de Minckwitz. "But when you look closely, the supply and demand dynamics are still extremely favourable. There is still a lot to be positive about."
The big players, from institutional investors looking for core to private equity companies hunting for value-add opportunities, have money to spend and they want to spend it on logistics. "Logistics is still very appealing compared with offices, retail or other asset classes," notes Nick Preston, fund manager at Tritax EuroBox. "Growth will continue despite the uncertain macro environment, and that's why we are focusing on our day job, managing our assets well."
Shift to quality
There has been a shift to quality which is benefitting those who have resilient assets in good locations. "Companies are looking to consolidate into high-quality, well-located logistics spaces, and they want to build a more resilient business by holding more stock closer to their customers," says Preston.
Nearshoring is a trend that will continue, as will the focus on good locations and quality assets. These are not passing fads, but rather long-term, substantial shifts in the market.
"We're building to as high a spec as possible as costs allow, because for us quality is key," says Will Prewer, responsible for capital markets UK, Ireland & EMEA, at DHL Supply Chain. "We're still driving quite a big pipeline of development, as people keep looking for supply chain solutions and there's no sign of that demand dropping off. Occupationally, the market feels very strong."
The only frustration, he notes, is not being able to create enough new high-quality buildings to meet demand. Supply cannot keep up with demand.
Future-proofing assets
Experts agree that the best way to drive value and ensure quality is through the creation of sustainable assets. "We are seeing a clear shift: awareness is growing and ESG is on everyone's agenda now," says Prewer. "We're targeting the best carbon neutrality and the best qualifications for our assets, but we're also investing in a bigger electric fleet, hydrogen trucks and new fuel-efficient planes."
Ensuring energy resilience has become a key part of a sustainable strategies. "The direction of travel is clear," says Preston. "We're looking at how our properties in the UK and across Europe, which tend to be very large and well located, can be used for energy generation, not just for occupiers, but feeding into the grid. Providing high-quality buildings with resilient energy supplies is a key differentiator for us, a real selling point."
'In times of disruption, you have to use your brain the old-fashioned way, instead of relying on the magic market.'
Michael Hughes, Verdion Group
The push for sustainability is also resulting in more creative solutions and more repurposing of assets. "ESG is not just about putting solar panels on the roof, it's about future-proofing assets and it also encompasses social justice," says Hughes. "The focus on the quality of buildings means more emphasis on redeveloping sites. Developers complain about the lack of permits, but in truth it has opened up opportunities for redevelopment of brownfield sites."
The focus on ESG can also help when it comes to planning and permits issues. "Municipalities are extremely reluctant to give the green light to logistics development," says Preston. "So you have to work with them and reassure them by showing the environmental and social impact benefits."
Growth set to continue
The sector's growth trajectory is set to continue, but prices have become more realistic, which is a positive.
"Huge demand and competition had led to record prices, taking bids for logistics assets to a level where it was just about working," explains de Minckwitz. "Now there are still deals going on, but buyers are able to say they're at the limit of what they're prepared to pay because their costs are going up. Discounts vary between 0% and 20%, a big range."
Market conditions have normalised and adapted to the new economic and market environment. Costs have become more of an issue, as the results of Savills' 2022 Logistics Real Estate Logistics Census show.
"Cost is now a real driver," says Prewer. "We're trying to provide a solution by pushing through multi-use locations rather than a single retailer in a single location. It helps companies mitigate cost increases as they recalibrate their supply chains."
---
Cautious occupiers still looking for more space
Logistics occupiers are concerned about the short term, but they are still looking for more space, delegates heard at Real Asset Media's Trends 2022: The European Logistics Real Estate Census 2022 briefing, which took place at Savills' headquarters in London and online on the Realx.Global platform.
"Long-term optimism about the outlook for the sector is tempered by caution over the immediate horizon," says Mark O'Bornick, director of research at Analytiqa, who presented the results of the European Real Estate Logistics Census 2022. "Yet, 90% of respondents say they want the same or more warehouse space over the next three years."
The second edition of research into the attitudes and confidence of property professionals across Europe shows that most people (51%) find current trading conditions more difficult, or much more difficult.
Real estate's key concerns
The key concerns for investors and occupiers are rising rents, while for asset managers, agents and consultants the main problem is lack of supply of new buildings. Landowners worry about power supplies, while developers fret about zoning and permits. Everyone is concerned about the availability of labour, economic uncertainty and consumer price issues.
"Price sensitivity has increased and costs are the top concerns for manufacturers and retailers," says O'Bornick. "But the feature that is top-rated in terms of importance is flexible lease length, which was third on the list last year and has gone up to number one. Contract terms are a worry for occupiers."
Somewhat surprisingly, given the growing focus on ESG, sustainability features are ranked at number six in the list, below labour availability, car parking for employees and the ability to support automation services. "Sustainability really should be the top priority for everyone now," says O'Bornick. 
When looking for warehouse space, occupiers see Germany and France as top destinations, followed by Poland and Italy. Portugal, while coming off a low base, has experienced strong growth in demand.
"Urban logistics is a sought-after segment, with demand driven by logistics company delivery networks," says O'Bornick. "Mid-box spaces between 10,000 and 40,000 sq m are stable, but there is less demand for mega-boxes."
The evolution of supply chains is driving demand for more space closer to home markets.
"The main lesson learnt from covid is the need to reduce reliance on foreign imported materials and goods, and shorten the supply chain," says O'Bornick. "Most occupiers are increasing the quantity of stock they hold and are diversifying their supplier base as well as investing in automation."
---
Nearshoring is transforming the outlook for logistics
"There's only anecdotal evidence for the death of globalisation, but we're certainly seeing a decoupling between logistics demand, which is strong, and trade growth, which is modest," says Oliver Salmon, director of global capital markets in world research at Savills. "This provides optimism for markets that are focused on nearshoring."
Nearshoring is transforming the outlook for the logistics sector. Supply chain pressures have been easing in the past few months and there are fewer transport bottlenecks.
"The accumulation of inventories, especially in G7 countries, is a big theme," says Salmon. "It provides a buffer against future obstructions, so supply-chain issues should continue to ease, regardless of what the future may hold."
There are multiple drivers behind the trend. One is the rise in labour costs in traditional offshoring places.
Developed countries benefit
Another issue is that a quarter of all trade is conducted with countries described as high risk. The environmental aspect is also in the mix. "International trade accounts for 20%-30% of global carbon emissions," says Salmon. "Offshoring is incompatible with net-zero targets."
All these factors have led to a big change in the destinations seen as attractive. This has benefitted stable, developed countries with environmental protections in place.
Global warehousing costs continue to rise, broadly in line with inflation, but with marked differences across regions and countries. London leads the world rankings, followed by Hong Kong, Tokyo and Dubai. In Europe, a notable development has been the rise in costs in areas such as Yorkshire in the UK or cities such as Dublin, Paris, Barcelona and Berlin. Prague has done particularly well, benefitting from its location, but also from low labour costs.
'International trade accounts for 20%-30% of global carbon emissions. Offshoring is incompatible with net-zero targets.'
Oliver Salmon, Savills
Outside the logistics sector, the global economic outlook is bleak. Inflation keeps rising, exacerbated by the energy supply crisis, and interest rates will keep rising as central banks tighten monetary policy. Growth is slowing this year and is forecast to shrink even further in 2023.
"After the inflation shock and the interest rate shock, there's the potential for an economic growth shock over the next 12-18 months," Salmon says.
Retail sales have been slowing as incomes are squeezed. European consumers are struggling with the increase in the cost of living and are extremely pessimistic on the economic outlook.
"We're seeing a collapse in consumer confidence across the world, [to] below levels seen during the pandemic and even during the great financial crisis," says Salmon.
E-commerce is returning to pre-covid trends and has fallen back from levels at the height of the pandemic, especially during lockdowns.
"We've seen a strong correlation between penetration rates and restrictions on mobility," says Salmon. "But segments that are more suited to online shopping, particularly electronics and clothing, will continue to do well."
---
Tailwinds stronger than headwinds for the sector
Despite current challenges, there are still more positives than negatives for the logistics sector, according to Kevin Mofid, director and head of EMEA industrial and logistics research at Savills. "The tailwinds are stronger than the headwinds for the logistics sector," he says. "But the situation is volatile and winter will be tough."
In 2021, there was a record take-up of 38 million sq m in Europe, while investment in the sector reached a record €62 billion, an increase of 79% on the five-year average.
This year started on a high, with more than 20 million sq m transacted in the first half, according to Savills figures.
Take-up has shown some interesting trends, with Germany (22% of the total) and the Netherlands (18%) in the lead, but also strong performances from Poland (17%) and the Czech Republic (7%).
'Rental growth forecasts are +1.6%. They consistently undervalue the relationship between supply and demand. Forecasts underestimate rental growth, which has consistently outperformed and will continue to do so.'
Kevin Mofid, Savills
"It's been a very strong start to the year, with no drop-off in occupier demand," Mofid says. "It will be interesting to see how the trend develops in Q3 and Q4, as there is no guarantee that deals will continue at this rate."
A look at vacancy rates allows some optimism. The average rate in Continental Europe is 2.9%, with many markets well below that figure.
"In the UK, when it was at a similar stage of the cycle, the vacancy rate was 12%," says Mofid. "Now, double-digit vacancy rates are not remotely possible, not even in a period of economic volatility."
Demand continues to rise
The other cause for optimism is that demand for logistics space continues to rise. The sheer weight of capital targeting European logistics has compressed average prime yields by 23 basis points to 4.08% over the past six months. "Yet rental growth forecasts are +1.6%," says Mofid. "They consistently undervalue the relationship between supply and demand. Forecasts underestimate rental growth, which has consistently outperformed and will continue to do so."
Building costs have increased and project timescales have increased. It is also harder to get financing.
Due to the combination of these factors, "we're already seeing [fewer] speculative developments", says Mofid. "So vacancy levels will fall even further, which means that rents will go even higher."
The nearshoring trend is also benefitting the logistics sector, as geopolitical uncertainty and supply-chain issues are driving companies to move closer to their customers. "In the past six to 12 months, we've seen nearshoring explode in companies' annual reports," says Mofid.
E-commerce has halted its rise as the economic situation is so serious, but the long-term trend is up, he says. "The consumers of the future have grown up with online shopping. It's a simple question of demographics."