CEO interview: René Parmantier – Corestate gets down to business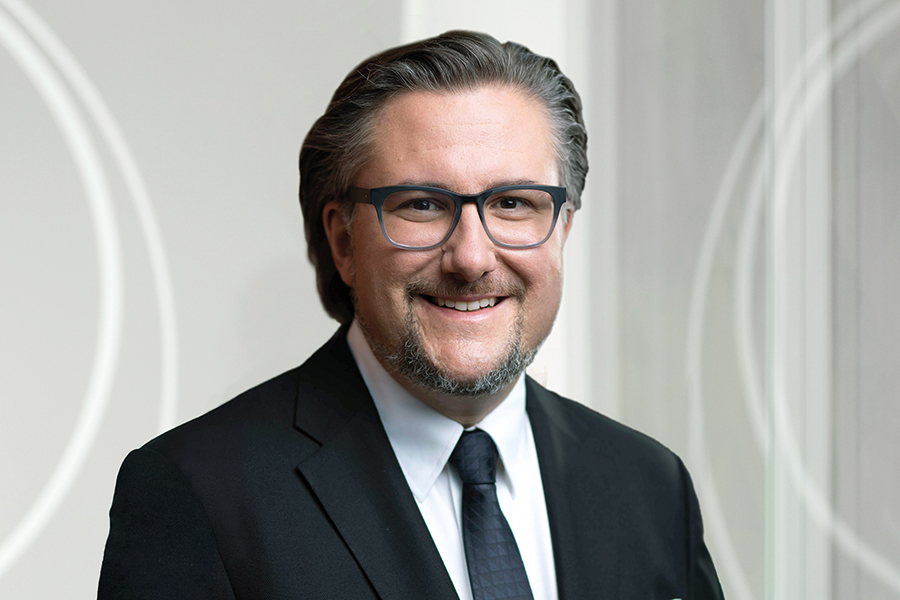 Corestate CEO René Parmantier joined a firm in need of more 'post-merger integration'. His plans for change centre on putting real estate front and centre, reports Paul Strohm.
Next year Corestate Capital Holding will relocate its headquarters to Frankfurt's Marienturm from its present offices, sharing the space with the recently created Corestate Bank in the heart of the city's banking district.
That all Frankfurt-based employees will soon be able to work together under one roof is a particularly important step in the development of Corestate, notes CEO René Parmantier in an official statement about the move issued in September.
The move is highly symbolic as well as practical. It characterises Parmantier's plans for the company that he was hired to put back on track in December 2020 after Vestigo Immobilien Investments took a 9.9% stake and changed the entire supervisory board.
As Corestate's fifth CEO in four years, Parmantier emphasises that he is looking at the job as a long-term post. Having bought a substantial number of Corestate shares himself since joining the company, he has literally put his money where his mouth is.
Management volatility
"Since I started my career I have always worked for quite some years for the company I was with. This kind of volatility, both on the management side and the people side, is very unusual to me," he tells Real Asset Insight.
Parmantier says that when he joined the company he did so on the basis of publicly available information. "This company has been built up in a very short period. It has existed for 15 years, but it has been built up to its present the size within two or three years.
"We bought companies along the entire real estate value chain, many within a very short period of time, not all are fully integrated yet. That leaves room for some more synergies on the one hand and on the other raises the question: Do we manage that particular aspect better if we own it?"
"When I joined Corestate, I got the impression that some things were not yet running as smoothly as planned after the many acquisitions. This is where I started and the reason I initiated a sustainable reorganisation of the Group," says Parmantier.
"It's about putting the company in the right direction, and accelerating further post-merger integration or maybe even selling businesses not needed for the future. Corestate has grown very fast to the level where it has €28 billion assets under management, and this means, in each case, deep post-merger integration work.
"Let's say you buy a company, which fits into the structure, then you have to integrate it. The CFO sitting in Frankfurt has to know if there's cash in London or Paris and he has to have the access to the cash as well. In this field there is still a lot for us to do."
To turn the company around, "you have to talk, visit, and find the right strategy", he says.
"When we manage to reposition the company and make it profitable again long term and stable, and reduce the fluctuation, reduce the turnaround of people, and increase the business both on the institutional side and on value-add, and when it's more deal driven, then I think there's a great platform. That was the reason why I did it."
Parmantier's initial focus on joining Corestate was stabilising the business, and talking to key individuals and customers. As with many businesses, the health crisis took its toll and Corestate experienced a volatile 2020. "There were plans to increase the dividend and then, instead of that, Corestate had to deal with a profit warning. In terms of capital market communication, it was hard to handle."
"We have some large institutional customers, some with a couple of hundred million euros AUM with us, and some with more than a billion, so it's key for us. These people decided to work together with Corestate for a reason. Corestate is the real estate expert in the field where we were active, where we have DNA, and that is the most important thing."
Bank acquisition
That said, one of Parmantier's first moves was the acquisition of securities trading bank Aggregate Financial Services (AFS), now Corestate Bank. "We bought that because I think it's key to have that within our product. "Corestate Bank is focused on real estate of course, but not only that. It was key for us on the mezzanine side. Also, very importantly, we bought the bank in particular because of the great people, not just because we wanted the product."
"The bank already delivered sustainable proceeds in the first half year, so they're very active and we are very confident for its future contributions to the EBITDA. They're fast growing and have grown from 25 to more than 50 people."
Corestate's business blend sets the company apart from others, Parmantier says. "We are different because it's a perfect mix of real estate equity combined with real estate debt." He adds that this is a "huge opportunity" as he expects the private debt market to triple in the next two to three years.
'The company has the power to increase the assets under management on the real estate side, three to four times. It's going to be a key area for us.'
René Parmantier, Corestate
However, he says there are many brands in the Corestate stable. "We are analysing the whole company structure intensively and there will have to be changes, that could include, for example, a rationalisation of brand identities that will keep the Corestate brand but reduce the number of subsidiary brands to make the group more understandable for the outside world, particularly on the student accommodation and micro-living side. It's still, if you look at it from the outside, too complicated."
Another area of streamlining is likely to be the non-real estate investments. "Alternative investments like media funds or aviation are not key for us. We need to focus on our core strengths in Real Estate Equity and Debt. Our subsidiary Hannover Leasing for example financed Lord of the Rings and stuff like that years ago. This is still sitting in funds because it's a legacy. Again, we will focus on our real estate expertise."
Strengthening real estate
The composition of Corestate's profitability is 90% bank and debt as well as 10% real estate equity, but Parmantier is keen for a 50:50 split. "We're going to strengthen real estate massively," he says. "There was a lack of deals at Corestate on the real estate equity side during the corona crisis. A significant part of the profits came from the mezzanine side. The company has the power to increase the assets under management on the real estate side, three to four times. It's going to be a key area for us."
ESG is one area in which Parmantier says the company has done well historically. It published its first ESG report in 2020 and in the same year switched the entire €17 billion Germany portfolio to green electricity and it is expecting to pursue the first Standard & Poor's ESG rating. "It's an important topic for us," he says.
While Parmantier concedes that the company is behind in terms of logistics investments, and hospitality is a difficult market, offices is a sector about which he is more positive. "I don't see any issues there at the moment, but we're going to be a bit more opportunistic."
International expansion is also important. "We do see potential. We are thinking about going into the UK, it's really on the top list, also, because of Brexit, I do see a lot of business there in different parts of the sector.
"But the key thing is we want to have more deals on the equity side, we have to strengthen the equity side. It does not matter where we do it, but the focus will be the UK, France, Spain, Germany, Austria, Switzerland and Benelux. We also want to grow in Poland, which we like."
As for heading beyond Europe, that is not yet on the cards. "Schritt für Schritt," says Parmantier, "Step by step, that's one of my favourite sayings at the moment."