Returns from real estate put sector ahead: PwC/ULI report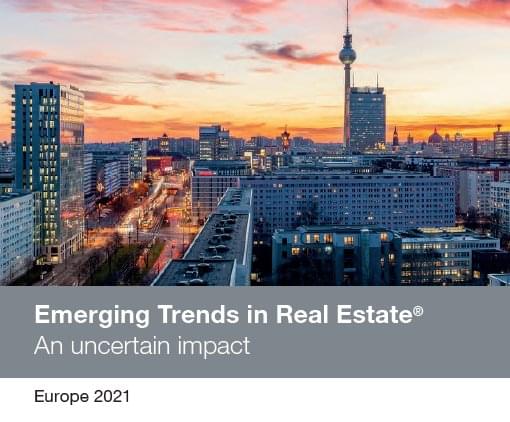 Despite the fact that the European property market is in the midst of a cyclical downturn combined with long-term structural changes in the sector, real estate is still seen as one of the few asset classes to generate acceptable returns according tovthe latest edition of the Emerging Trends in Real Estate Europe.
The report, which is published by consultants PwC and the Urban Land Institute (ULI), is based on an opinion survey of 1,000 industry leaders across Europe.
Its findings confirmed that retail and offices will be the sectors most affected currently due to widespread uncertainty about rent collections during the pandemic.
The report also concluded that capital flows into the sector are altering the way funds can be deployed. It said that there is a strong likelihood that domestic and European investors will play a much greater role in Europe.
While a majority of respondents still expects Asian capital moving into Europe to increase, the proportion was significantly lower than in previous years, simply because overseas investors cannot visit property in Europe before buying it.
The challenges around business travel and potential future lockdowns is raising concerns about deal sourcing. Difficulties assessing new opportunities while there are travel restrictions or building new relationships in the 'Zoom-era' could restrict transaction volume significantly, the report found.
Companies and countries with scale have an advantage
Players with a greater footprint and resources in place on the ground in more countries therefore have an advantage likely to benefit larger real estate markets such as Germany.
There has also been a 'digital switch': the increased pace of digitalisation caused by Covid-19, is also affecting investors' sector preferences. Logistics, data centres and communications towers and fibre were identified as having strong potential.
In addition, life sciences and healthcare are looked on favourably, while residential is still high on investors' lists of priorities.
"The pandemic has amplified a number of previously identified structural trends. These include the uptick in e-commerce and remote working, causing investors and the industry at large to re-examine the historical risk and return profile for many types of real estate," said PwC UK real estate director Gareth Lewis.