Help New Business find you at EXPO REAL 2019
The International Investors Lounge returns to EXPO Real, for its fourth successful year, bringing a full programme of expert panel discussions, networking events and partner stands to help create and facilitate a positive environment for cross-border investment and international business.
With an expanded stand and new location in the Nova Hall A3, focused on innovation and investment, the International Investors Lounge is open on three sides to accommodate both stand partners and attendees at the successful programme of events attracting investors and real estate specialist from across the globe.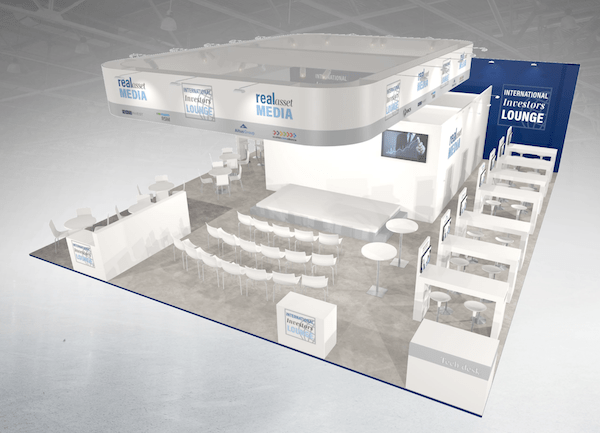 The focus is fundamentally international with the full programme in English focused on sector opportunities, cities, countries and regions as well as mega trends and hot topics influencing the investment decisions of international capital.

Stand Partners include the RICS, International Campus, CMS, Bonard, NAS Invest, RSM, Blackbird Real Estate, and we will also launch an area dedicated to Healthcare real estate.
Joining the International Investors Lounge as a Stand Partner gives you and colleagues a 'home' and helps potential business partners find you at EXPO Real. As a Stand Partner you receive all the benefits of an exhibitor without the need to dedicate the significant time and budget needed for an individual stand. As a stand partner, your company benefits from official Exhibitor status including a listing in the EXPO Real catalogue (online & print). Clients and potential business partners can find you easily and efficiently and meet you at your stand.
All enquiries please contact:
Thorsten Herbert
Founding Partner, Managing Partner
Real Asset Media I Investment Briefings & TV
M: +49 170 47 98 793
E: [email protected]
Richard Betts
Founding Partner, Group Publisher
Real Asset Media I Investment Briefings & TV
M: +44 7557 37 31 34
E: [email protected]

Frank Beinborn
Director Client Relations
Real Asset Media I Investment Briefings & TV
M: +49 1525 4878668
E: [email protected]