The Interlace in Singapore wins 10 Year Award for sustainability
Singapore's trailblazing vertical village, The Interlace by OMA and Ole Scheeren, has won the 10-Year Award at the 2023 Council on Tall Buildings and Urban Habitat Awards.
The award recognises the exceptional value and sustained performance of tall building projects over a decade, looking at the project's sustainable qualities over the long term and highlighting tall buildings that have not only stood the test of time, but also made significant contributions to urban life.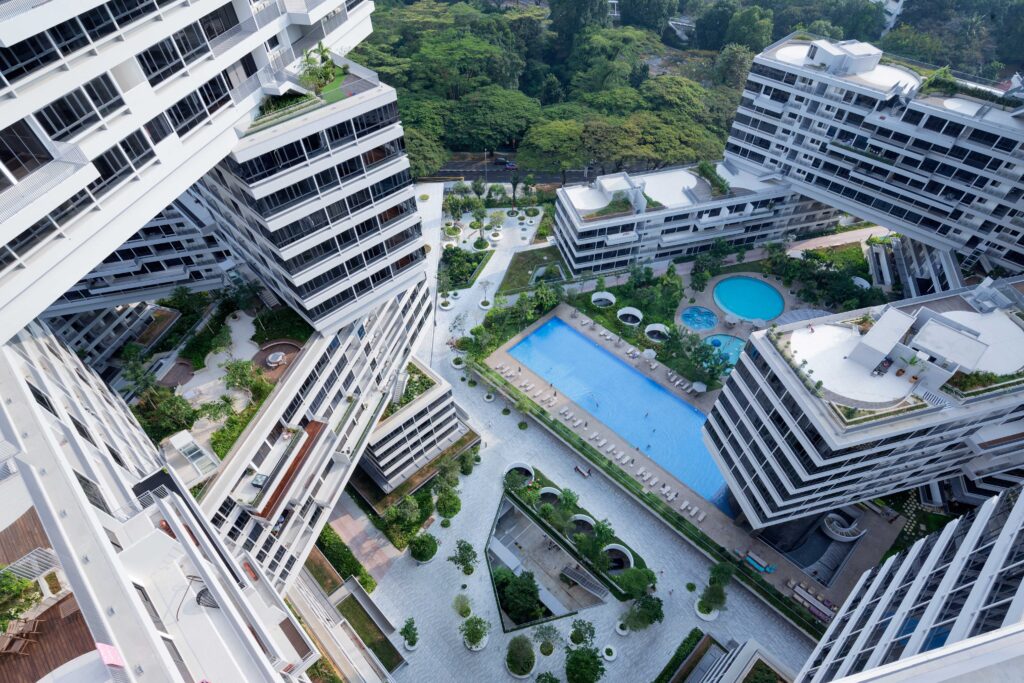 "We are honoured to receive the 10 Year Award, which recognises the enduring social and environmental sustainability and importance of community that our design has fostered over one decade," said architect Ole Scheeren. "The Interlace has proven that it is possible to redefine the status quo of dense urban living by integrating nature with architecture and re-imagining the way we live in our cities."
The 170,000 sq m residential complex in Singapore was conceived as a vertical village and features a network of living and social spaces within 31 six-storey apartment blocks stacked in a hexagonal arrangement around eight large courtyards. The over 1,000 apartments have views over the city, the surrounding parks and the sea.
The project was designed to turn vertical isolation into horizontal connectivity and to reinstate the notion of community as a central issue in today's society. Instead of creating a cluster of isolated, vertical towers – the default typology of residential developments in Singapore – the design created an intricate network of living and social spaces integrated with the natural environment.
The interlocking blocks create a vertical village of both shared and private outdoor spaces on multiple levels. While maintaining the privacy of the individual apartments, The Interlace creates an interactive network of outdoor spaces oriented around the focal points of the courtyards, reflecting and extending its natural surroundings.

The Interlace has continued to evolve in the years since residents first moved in. Sustainability features have been incorporated throughout the project based on environmental analysis of sun, wind, and micro-climate conditions and the integration of low-impact passive energy strategies. Located on an eight-hectare site in the Southern Ridges, the complex now has a 9 sq km green belt of parks and recreational facilities.
The Interlace had already been recognised as a landmark in urban development, being celebrated as "World Building of the Year" at the 2015 World Architecture Festival and named winner of the inaugural 2014 Global Urban Habitat Award by the Council on Tall Buildings and Urban Habitat (CTBUH) in Chicago.